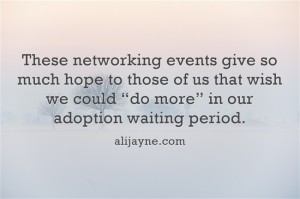 Saturday I went to my second Be My Parent matching event.
This is one of the smaller events, where they set up separate stations of the kids being profiled with laptops playing video or slideshows, along with a one page information sheet that is available to take home.
There were about 18 stations set up, spread out over 3 different rooms.
The event ran for 2 hours on two separate days (one weekday evening, one weekend day).
I went to the weekend day timeslot and arrived at the beginning – 11am. I found that my SW was there when I arrived and was so grateful! Thank you T for being there 🙂
Quite a few potential parents were milling around when I arrived, and it was a bit crowded in the main room.
I was in no hurry to be anywhere else and felt happy just to wander around and get my turn at each station when opportunity arose. I circled through the three rooms for the next hour taking my chance at a station when one opened up, and talking briefly to some of the social workers and guardianship workers in the room.
I also got to catch up with some other approved parents that have become friends in arms – as it sometimes feels. And it was so good to see them and hug them in person instead of virtually over the forums! 🙂
The bulk of the approved parents invited to attend that day came within the first hour, and by the end of that hour the stations were much easier to access.
There were a few that I'd glanced at over people's shoulders and had been looking forward to my turn.
My SW was sitting at one of these stations, when I scouted by once more. She saw me and motioned me over, asking if I'd seen it yet? Nope! So she got up and let me take her place.
Unlike the other stations, this one did not have photos or video of the children being profiled. The video playing was a 3 minute repeating reel of interviews with the children's foster mom (FM) and social worker (SW).
These children are being overseen by a different agency in conjunction with the Ministry and that agency did not allow photos to be shown of the children during this event.
(Seriously?! Blood boils once more that we're approved parents, we're present to this 'closed, secured, by invitation, only-for-approved-parents' event and STILL photos are not available. The reason given was that the kids are "super cute" and the agency did not want anyone to show interest based on looks alone. Uh… insulting much? In their defence, perhaps this has happened in the past and they are being overly cautious of it happening again, but condemning the masses for a small number of cases grates on my senses… Yet a part of me knows this is the way it is and being angry about it is not going to help anything or anyone – especially me… so I need to accept it and move on… right?)
So I sat. I read the information that was beside the laptop, took a handout on the kids, and watched the video. There are two children, 5 and 3, girl and boy.
They are currently in a foster home with an older single career foster mom who has more than just the two of them in the home.
This is encouraging. A single older woman who is able to parent these two little ones, plus others, means that when she says they are wonderful kids, who are helpful and easygoing, she is likely not exaggerating.
I have discovered over the years that sometimes a foster parent will have only one or two children in their care, because those kids need a lot of one on one attention and could not be in a home with more children. So knowing she has these two and others (including an infant) is great news – one single mom to another!
Of course she is also highly skilled and has been a foster mom for over 30 years! Lots of experience, but it still gives me hope!
The information in the video was that: both children were prenatally exposed to drugs and alcohol and have some developmental delays. Assessments are pending but should be completed shortly.
The person representing them on the day asked what I thought when I'd finished the video, I said it would have been great to see the full interviews (rather than the short edited version on the loop).
She had both full interviews there and offered to set me up at a different station to watch these. Yes please!! This was really helpful and I appreciated it very much. Thank you 🙂
In the extended interviews:
The FM told stories of these two going to school now, Kindergarten and pre-school, and how they both love to learn, draw, sing, dance, be read to and to try to read, are great with memory games, etc. The little girl likes to dress herself and does all of her hygiene herself, and the little boy is still in diapers but is becoming aware and ready to move to potty training. So they seem to be doing OK right now.
The SW on the video stated that both kids have FAS, and she is uncertain about their future as independent adults.
This may be the deciding factor for me, the level of exposure to alcohol and the potential of no future as independent adults.
The thing is though, it's all a crapshoot! Right? Who knows how a child is going to be in 10 years, or 20 years?
For me, one of the hardest parts of the adoption process, journey, walk, path – whatever you want to call it – is separating my heart and my imagination from my decision making process.
There is much advice from those who have walked before, who say make wise, logical, calculated decisions. The suggestion is to remove your heart and think with your head, think within your abilities right now to parent, think within your abilities to parent the predicted children of the future.
This is tough. Really tough.
I hear 5 and 3 who are currently doing great at school, eager to learn, helpful, loving, kind, and I say "They sound amazing!"
And then my mind runs off to imagine our happy family, going on family vacations, attending dance recitals, and sporting events, going to their graduations, them going off to college, graduating and getting dream jobs that fulfill their very souls, then meeting the loves of their lives and eventually creating grandchildren.
I mean, I'm an expectant mom – you show me ANY expectant mom who isn't having the same types of positive life-is-roses fantasies about her future children (and her children's future), regardless of how that family comes to be. It's our right, is it not?
But the kids in care are so burdened with labels, diagnosis, and predictions for their future…it's hard to see past them – and, for me, it's equally hard to not look past them and believe otherwise. "My kids will be different." I know it's ill-advised to think that way, but it's difficult to not think that way. No one wants to think of their kids struggling with anything now or in the future.
Some of these kids never get a second look because of factors out of their control – labels, acronyms, diagnosis, predictions, age, ethnicity. It is heart-breaking. I feel for the workers who are trying to find all of the kids in care permanent families. It's a hard job for sure, and one that is made ever more difficult by so many unfortunate circumstances.
Sadly, these kids might turn out to be not for me because of those very issues, but for now I have asked for more information and will see what comes of it.
The worker present that day representing these kids was going to read my home study and determine if she wanted to put my name forward… she may still decide I'm not a good fit.
After spending about 30 minutes at this station with the worker, I let others get in and moved on to the profiles I had not yet seen.
There was a group of 4 kids that I've liked since I started this process a few years ago. They sound and look like AMAZING kids. Personally, I want more information on all four of them. But…there are four of them!!! So while I enjoyed reading their profiles again, enjoyed painting the picture of our happy family future in my mind, and loved seeing the slideshow of the kids enjoying themselves… I said a little prayer for them with the hope that at this event their potential parents have found them.
Then I saw the profile of two boys 12 and 6 (I think) that I have also seen before, and they too look/sound like great kids. I've considered them every time I've seen them, and this was no exception. This time their SW and my SW talked for a while about this possibility – my single female status did not seem to be a problem. These boys have a connection to the First Nations band in my town, which is believed may be favourable for me. I got a bit swept away with the talk and felt eager about the idea of parenting them.
Then I got home and I thought – two boys who currently live in a two parent home, with lots of outdoor activities, and who love camping and fishing and… I'm not a fit for these boys!
With a heavy heart I sent my SW an email the following morning asking her to not pursue their profile for me. And it is with an enormously heavy heart, there is something about them that draws me in each time, and likely will again. I wish and hope that very soon an amazing home is found for them with loving parents who are able to give them all of the experiences and advantages that they should have. I wish it could be me, but I'm 90% sure I'm not the mom for them.
This event was a positive event for me. It felt good to have a few options present that made me feel like I could be moving forward again.
Time to shout out a huge, heart-felt Thank you! to all the people at AFABC for putting on this Be My Parent event. And to all of the Social Workers and Guardianship Workers who put their time, energy, and hearts into finding families for these deserving kids.
These events give so much hope to those of us that wish we could "do more" in our adoption waiting period…and I am so grateful to have been invited to two such events so far this year.
I appreciate the time and the effort that went into creating this event, and appreciate that this is time outside of normal working hours for each of the staff in attendance.
Thank you!
There is another networking event in two weeks, this is the bigger sit-down, all-day, event hosted by MCFD (Ministry) where 30-40 profiles will be shown, and there will be equal social workers, and guardianship workers to network with.
I'm looking forward to the possibilities on the road ahead and to gaining more information on the profiles I've seen already (photos too perhaps!).
Have you attended a matching event recently? I'd love for you to share your thoughts, feelings, and experiences with me.
Warm smiles and Love,
Ali Jayne 🙂