The day finally arrived to fly out of the country toward my destiny, or at least toward the Czech Republic where I was going to have an embryo transfer in the hope of having a baby.
That morning I went through the routine as normal; insert four progesterone balls, take the estrogen tablet, perform a Reiki session and a little meditation, snuggle with my kitty who I would miss terribly, shower, dress, and wait for the cat-sitter to arrive.
Then I was on the road, tunes playing, feeling a little bubble of nerves building within my gut.
I pushed those feelings away and focused on the road, on the drive.
Occasionally I'd allow my mind to wander and I thought not of the transfer, but of the result. I imagined my son or daughter in the back seat of the car, as a five year old, preparing to go for a vacation somewhere. I imagined talking with them, or singing to them, I imagined what it would feel like to be a  mom. If my thoughts wandered to the origin story, to what I was about to do to get them, I would start to feel that flutter of nerves again and I'd change my thoughts back to something else, something uplifting.
And I did feel uplifted. I felt good actually, nerves aside, I felt happy, hopeful, positive. I always love travelling.
The drive to the airport seemed to support my feeling. I got green lights all the way, bar one red light that actually saved me from a red light ahead on the hill, which I had been dreading… I drive a standard.
The green lights felt like a sign, and after the first three or four I was blown away by them. In high spirits, I sang, I smiled, and I felt blessed.
I dropped my car at the park 'n' fly, grabbed the shuttle to the international terminal.
Another "green light" showed itself; when I got to the Air France counter there was no one else there, no one! I walked straight up, the lady was super friendly and smiling. I'd already checked in the night before and just needed luggage tags and boarding passes.
She saw I was going to Prague as my final destination and talked about how amazing the city is, she suggested some places to eat and things to see and told me I would have an amazing time.
I believed her.
Everything felt good, felt right, felt like I was on the exact right path.
There was not too much time before my flight and I did a little duty free shopping, had some lunch, and read a chapter or two of my book and then they were calling us to board.
My seat was a window seat, a suggestion of a friend who had travelled to Prague the week before and she'd seen the northern lights out of the window on the way.
There was no one next to me and a lady sitting on the aisle. So we had one free seat between us…yay! I love that, almost as good as having the whole row to myself.
The plane was a bit older though and the seats had lost their padding. It felt like sitting directly on wood, and this was unfortunate. Using the pillows they provide and blankets I made it a little more comfortable, but this was a "sore" point throughout the nearly 11 hour flight.
However, the food was pretty good for airplane food, and the entertainment was good too. I even got some sleep, and… I did see the northern lights over Greenland and Iceland!!
Then came time to insert the progesterone.
Oh my, this is not the easiest thing to do at home with ample room in a building that is not bucking and swaying!
In the tiny little bathroom cubicle on the plane, my leg precariously perched on the toilet lid, my elbow braced against the mirrored wall, I managed to push one ball in, then there was turbulence, I swayed a centimetre or two pushing my back (and naked bum) against the sink (those cubicles are so small!) until I felt steadied while I waited for the turbulence to subside.
Then I tried to insert the next ball. Turbulence bucked the plane just as I was pushing the second ball in, the position slipped and I actually pushed that little ball into the flap of skin that surrounds the urethra. Immediately I cried out, "OW!" it was SO PAINFUL! The ball was wedged in there completely and I had to squeeze to "pop" it back out. Then I re-guided the ball to its rightful destination. I broke out in a light sheen of sweat. Who knew this was even a possibility? Not me, and I'm sorry I discovered it.
The third ball went in no problem and then we hit some more turbulence as I was pushing in the fourth ball and I felt a pain deep inside as my finger jammed against my inside wall.
All four balls were in though and I washed my hands and headed back to the seat to get as prone as possible. Not easy in seats that don't recline more than a few inches.
I did my best to relax and hold those little balls in place enough to melt into my body and provide exactly what was needed.
The rest of the flight went without hitch and I put the toilet experience from my mind.
As we circled Paris, which was my transfer destination to Czech Airlines for Prague, I saw the Eiffel Tower standing in all it's glory in the morning mist and sunrise glow!!
That was pretty awesome and I was chuffed again to have the window seat and to have seen the Eiffel Tower in real life, even if from a distance, out of a plane window.
Northern Lights and the Eiffel Tower, plus all the green lights… everything about this trip felt blessed.
We touched down at Charles Du Gaulle airport and then taxied for over 35 minutes! I had 1 hour and 35 minutes to get to my next flight and over 35 minutes was swallowed by taxiing.
I started to feel deeply stressed for the first time.
Getting off the flight also took another 10 minutes or more, I raced into the terminal and searched for my next flight.
I was in Terminal D and had to get to Terminal E. I walked toward the transfer signs, it was a loooong walk with many moving walkways of which I took advantage.
I made it to the transfer bus and jumped on. This took another 10 minutes or more to get from one terminal to the next.
A mantra started to run in my head, "it's fine, we're fine, no matter what happens we'll be okay, if we miss this flight there will be another, whatever happens we'll be fine, either way we will get to our destination today…"
This helped calm me a little.
I bargained with myself too by agreeing that if I missed this flight and arrived late at night, I would get room service and eat it in bed (a guilty pleasure when I travel is eating in bed!). This thought made me relax even more. No matter what it would be a good day.
Arriving at the correct terminal I asked the lady to tell me where I was going next.
She scanned my boarding pass and the gate 34L came up.
Up the elevator, to the left, through customs, then security, then another walk, then another security.
My flight was to leave at 9:25am. It was now 8:30am.
I walked as fast as I could, made it through the customs, two security checks and arrived at the gate at 9:05am. Phew.
I peed, then sat and waited.
No one was moving. I waited and waited.
9:10am, 9:15am, 9:20am, 9:25am – that was weird, why weren't we moving, was the flight delayed?
I got up and looked at the screen.
Wait! What? 36L?!
45 minutes ago when the woman had scanned my ticket it said 34L.
I went to the counter 36L. The attendents there looked sympathetic, but they pointed to the end of the walkway, the plane had left. The flight had gone without me. I'd missed my flight.
But I was sitting right there! I thought frantically. I'd never missed a flight before. Why didn't they call me?
I wanted to cry. What do I do now?
Back to Terminal D they told me so I could talk with an Air France counter and get another flight.
Back through security, back through customs, back on the transfer bus, through another security, another customs, and another security. They take security very seriously in this massive airport.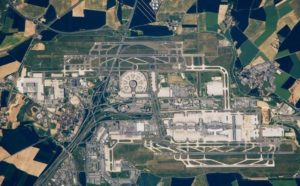 A long wait to see someone at the Air France counter, but I finally got a new flight….at 6pm!
I had nearly 9 hours to wait for the next flight.
And guess what? The flight would be from another terminal.
That meant more security checks, and at least one more (two more) customs checks!
In the space of one day I had my passport stamped four times while in the CDG airport. Welcome to France!
Many hours ahead of me, I had some breakfast and relaxed a little in the current terminal, I was done with the buses and security for the time being.
Eventually, I made my way to the other terminal, and spent some time wandering around, trying not to think too much about this predicament and what it might mean.
Was the delay about my own fears of the reason for the trip? Was it an omen? Did I cause this because I'm not really ready to be a mom? Or was it because I mentioned dinner in bed?!
At around noon I went to the bathroom and when I wiped I had blood on the toilet paper.
Blood.
This day just got better and better.
My mind immediately went to the worst case scenario, all this travel hassle had been for nothing, I would get my period and they would be unable to do the transfer, so the whole thing was a waste of time!
I worried that this was an omen for sure, that I was sabotaging the transfer because I was scared to be a mom. I was worried that I had caused this and I was trying to tell myself that I would fail as a mom and I wasn't worthy of a child.
In other words….I spiraled!
The feeling inside of me did not agree at all with this line of thinking and a feeling like grief bubbled up, I really wanted this transfer, and I wanted it to work. I wanted to be a mom.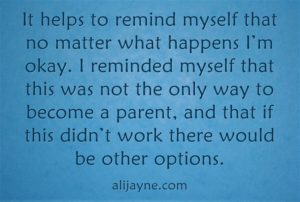 I allowed myself a few minutes of panic, then I started "we'll be okay, either way" mantras. It helps to remind myself that no matter what happens I'm okay. I reminded myself that this was not the only way to become a parent, and that if this didn't work there would be other options. And if the transfer could not go ahead this time, then I would enjoy Prague and enjoy my vacation….plus, on a positive note, no more progesterone balls to insert twice a day! That thought made me smile.
Then I took some action.
I emailed the clinic about the bleeding. Then I went back to the toilet to check if it had gotten heavier. No. Not heavier, but still there.
Then I emailed the friend who was already in Prague and asked her if it was safe to travel the metro at night.
I'd been feeling safe about arriving at 11am and finding my way from the airport to the hotel using a combination of transits. Now that I would arrive around 8pm in the dark, I was feeling less comfortable about making my way alone.
Then I emailed the hotel to let them know I would be late and see if they could recommend another transport option.
The clinic responded almost immediately and told me to keep an eye on the spotting, but that a little spotting is normal with the progesterone. As long as it was just as I wiped or a little in the pants and not a gush or a lot of blood it was fine.
Phew.
And two hours later the blood had stopped. I checked every 30 minutes! I let the clinic know and they responded that this was good news, and they would see me in a few days.
A few days!
Then the hotel responded. They could set me up with a transfer for $40CAD from the airport to the hotel. $40! The public transit would cost me about $4! I did not respond to their email right away and instead researched the other options.
While I was doing so, my friend offered to meet me at the airport and ride with me to my hotel! Phew! Such a generous offer and I was so relieved.
I replied to my friend and thanked her, yes please, I would really appreciate that!
Then I told the hotel I wouldn't need the transfer.
Nothing left to do but wait for the next flight. I also got to do my next progesterone dose and lay prone on the terminal floor for 30 minutes. My head on my neck pillow, my feet on my carry-on bag. I was grateful for this because I was worried that not being able to be prone on the plane caused the bleeding – perhaps the balls didn't soak in well enough. While lying down, I even got a few sorely needed winks of sleep.
Out of a desire to NOT miss this flight…!…I had checked the gate at the Air France counter in this terminal. The man even wrote down the gate on my boarding pass. So I felt pretty certain I had all of the information this time.
Still, after the flight was changed earlier that day I kept an eye on the constantly updating departures board.
And guess what? When my flight was called the gate that was listed 45 minutes ago CHANGED to a gate two over!!! I went back to the Air France counter and asked the man to confirm that the gate had changed – sure, I was tired, and a little grumpy, I might have needed to prove a point.
He looked at my ticket and the gate he'd written less than an hour ago, crossed it out and re-wrote the new gate then looked at me and shrugged in the French way… "pfft."
So relieved, I felt validated! I was not crazy the first time. It happens.
And really, I didn't care so long as I got on this flight… next stop… Prague!
This flight was much more comfortable than the last one, cushy seats! The flight was only 1.5 hours long, but we even got half a sandwich, a pack of bagel bites, and free drinks. Imagine!
I felt like I was back on the right path, and everything was again working for me.
We arrived at Prague airport and it was dark, I was so grateful that my friend had agreed to meet me, after the long day of travel, and the exhaustion I was feeling, the next steps would have been beyond daunting for me alone.
Stay tuned for the missing luggage and my first impressions of Prague.
Warm smiles and Love,