Last week I had a birthday…
Last week H also had a birthday.
Although I had been told not to contact her foster mom any more, I couldn't let her birthday go without sending something to say I was thinking of her.
I'd been planning on being there for it. We were going to work together, her foster mom and I, to make her party a success.
I felt bad that I wasn't there, and sad that I wouldn't get to be.
Her foster mom replied to my email and said that she was glad I'd reached out and that she was still hoping I would change my mind.
I wish that were possible.
If only.
But as it is now, I am not able to be the mom that H needs.
Maybe at first while I am on parental leave, but after that I have to go back to work, and she would have to go into before and after school care, she'd have to be left in the care of others… possibly a lot… while I'm working and that wouldn't be fair to this little girl who needs the one on one love and attention from her caregiver.
I've run the scenario over and over in my mind (then over and over again to be sure) and it always sticks at that.
So many times I have wondered if I could really do it, could be the mom that she needs, and there is always a small chance that within those bonding months of parental leave a breakthrough will happen and she will be able to feel secure and comfortable in before and after school care while I work… but there's a chance that she won't too.
And that wouldn't be fair to either of us.
So I have to let it go.
My mind knows this…
I didn't reply to the foster mom's email, though I've started a response at least 20 times in the past week.
I just don't know what else to say.
"I wish that were possible" is all I can come up with and it doesn't really help much, nor do I want to give any false-hope… neither to the foster mom, nor to myself.
H's birthday was 4 days before mine.
Something I had imagined would be really fun for us in the future… "our birthday week" where we get to be pampered for the week, every day doing lovely little things for each other, and doing lovely things together to celebrate our lives… and that we found each other. I was excited to share that week with my daughter.
Perhaps that is the hardest thing for me about this.
My beautiful and expressive imagination – something that I truly love, appreciate, and adore about myself – can also cause me to run "off with the fairies" (as Mother, My would say) into a fantasy that feels so real as I imagine it, that sometimes it is a little harder to let go if necessary.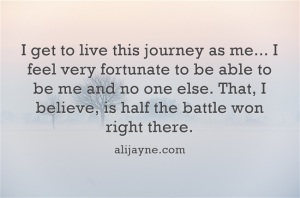 I had a birthday, I turned 42 this year, and even saying that number out loud feels weird. I remember Mother, My saying that many years ago… "I don't feel old; I don't feel any older than you." And me, being a teenager at the time, would be super grossed out because she looked a whole lot older!
Now though I find myself in a similar situation. I still feel, a good portion of the time, like a teenager, or a 20 year old, or a 30 year old, myself. I feel a good deal younger than I imagine a 42 year old should feel.
"How should a 42 year old feel?" I ask myself. "I don't know." Is the answer.
And then I realise it really is just a number – something else Mother, My used to say a lot, "age is just a number."
I have had moments where I get hung up on my age, worried that I'm "acting too young" or that I'm not "acting my age" when really… what does my age look like?
Where was I going with this?
Last week was an emotional one. But it was one that provided some cleansing, peace, and clarity.
I see my birthday as my own personal "New Year" and use it as a time of self-reflection about the year that was, or more aptly the life that has been, and the life I still wish to live ahead of me. Reflection and resolution.
There are many birthday-eve's that I have spent in tears, looking at what has not yet come to fruition and wondering what the "ef" I've been doing with my time. Then comes the release from the burden of holding in those feelings, followed by clarity, then relief, and a vision of all of the things in my current life (or that I've experienced so far) for which I am truly – truly – grateful. Then I feel eager and ready to face a new year.
I think of it as a cleansing of the spirit.
Other people's birthday's I see as an opportunity to celebrate who they are now and who they have been in my life. To say:
"Thank you, my friend, I'm so glad you live!"
I do feel clearer about the year I wish to see ahead of me, about the person I wish to see in the mirror in the morning, about the way I want to treat others, be treated, and treat myself. About the amount of gratitude I want to feel and the presence I want to have in every moment.
There are so many things in my life that I have left to accomplish, so many dreams yet to fulfil, I am a work in progress and I'm OK with that.
This could be the year for great change, and will be the year for exceptional forward strides. And no matter what eventuates it will be amazing.
Perhaps this year will be the year of family, with children who will call me momma. Perhaps it wont. I feel that I will be an amazing mom, and I look forward to that day in the future. In the meantime, I am already an amazing me.
What I know for sure is that I'm always growing, always learning, always considering what it is I want from life and who it is I want to be, and then turning toward those desires a little bit in every day. Sometimes I fall, (hard even), sometimes life is tough, sometimes I cry – but I always get back up, I always find the sunshine, the joy, the love in my heart, and I always continue to move forward.
I get to live this journey as me, and that's quite the gift. I feel very fortunate to be able to be me and no one else. That, I believe, is half the battle won right there.
This could be the year. For joy. For love. For success. For wonder. For creativity. For abundance.
And for Family.
This is my year. I choose to make the best of it.
And when I turn 43 next year I will likely cry and cleanse myself of all the missed opportunities, then I will feel relief and sit back and go "wow… what an amazing year… what an amazing life." 🙂
How about you…? How do you celebrate birthdays, and what do they mean to you?
Warm smiles and Love,
Ali Jayne 🙂