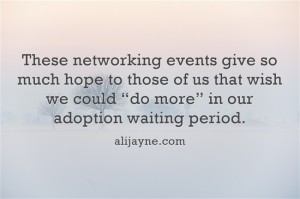 Saturday I went to my second Be My Parent matching event.
This is one of the smaller events, where they set up separate stations of the kids being profiled with laptops playing video or slideshows, along with a one page information sheet that is available to take home.
There were about 18 stations set up, spread out over 3 different rooms.
The event ran for 2 hours on two separate days (one weekday evening, one weekend day).
I went to the weekend day timeslot and arrived at the beginning – 11am. I found that my SW was there when I arrived and was so grateful! Thank you T for being there 🙂
Quite a few potential parents were milling around when I arrived, and it was a bit crowded in the main room.
I was in no hurry to be anywhere else Continue reading 2nd Be My Parent Event→