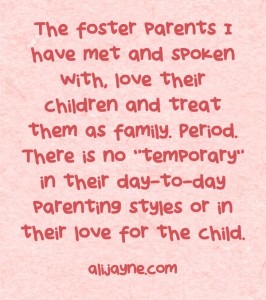 This is a question I have asked myself since the very first conversation I had about adoption nearly 3 years ago. The person I was talking with was a foster care social worker and encouraged me to consider foster care as well as adoption.
She told me about the large need for foster homes in my community, which I have to admit, surprised me. I live in a relatively small town, with a relatively 'small-town' mentality (everyone knows someone who knows everyone), and it had never occurred to me that there would be a need for foster parents so much as to be a lack of them.
At that time becoming a foster parent didn't appeal to me except as a possibility for the distant future, though I will admit, I didn't know much about foster parenting, nor had I met a foster parent (at least not knowingly).
Since then, Continue reading Should I become a foster mom?→