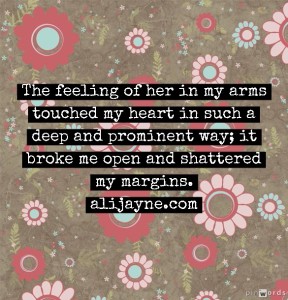 Last week my friend and co-worker gave birth to a precious little baby girl 🙂
Little K.E. joined her family on May fourth and became little sister to two year old A.J. Both parents are ecstatic to have two healthy, happy, little girls in their family. And I am overjoyed for them.
While I have only known my friend for a little over a year, we seemed to be kindred spirits and hit it off from that very first meeting. She feels like family, and that makes her family also feel like family.
I was privileged to be a part of this pregnancy pretty much from the day after they decided to start trying for their second child. I was also privy to the news of the pregnancy as soon as they found out and I had to keep the secret right along with them, until it was time to share it.
I got to watch her grow and change and go through the motions (like sickness) and emotions (like tears), and the whole experience has been an incredible honour for me in ways I'm not certain I have the vocabulary to share.
Especially as someone who may never get to experience the gift of creating life within my own body. Continue reading The feel of a newborn→