I went to a Celebration of Life this past weekend.
My friend's husband went to sleep one night and did not wake up. He was in his 40's and she is in her 30's.
Listening to his closest friends and his family talking about the man he was in life and the man he was to them individually was deeply moving.
It made me think about the shortness of life, the fragility, the necessity to seize every moment and make it the best you can make it.
The time we have on this earth is, for the most part, unknown.
Some people choose their exit consciously, sure, but most of us go along in our day-to-day business as though we have unlimited time.
And even when we're aware that our time is getting shorter – such as reaching a milestone age like: 30, or 40, or 50, or 60, and so on, we still feel that our time is at least more than today, more than tomorrow, more than this week, or this month, or this year.
The result is we live life accordingly, as though we will wake tomorrow morning and continue on the path we've been walking, sometimes dreaming of a different tomorrow but still treading the same water as yesterday.
A friend mentioned to me a quote she heard about the average man believing that he is a down-on-his-luck millionaire, and that "any day now" his luck will change and his life will no longer be the monotonous humdrum. (I'm paraphrasing as I can't remember who she was quoting or the exact words of the quote, only the gist.)
Her comment was in response to my dreaming of a future where I am financially free to choose how I wish to live. Getting up when I choose, eating when I choose, working if I choose or not working if I choose.
And I feel that most all of us have that same dream.
Hearing the heartfelt stories told by this man's loved ones, painted a picture of a man filled with hope, dreams, Love, compassion, and courage. Those stories reminded us all that there is no tomorrow, there is only right now.
When everyone who felt moved to talk had finished, his best friend and brother made one final plea to the people in the room that went along the lines of this:
"If you take anything away from today I hope you take this: Live your life with Love. Tell the people you Love that you Love them, tell them every time you talk with them, tell them every time you see them, hug them, appreciate them, tell them the things that they do that inspire you, that move you, that fill your heart with exuberance, joy, and Love. Don't wait, don't worry if it's reciprocated, don't worry about how it will look or sound. Tell them you Love them. And live your life, really live it, as though tomorrow is not coming, because one day it won't, and that day could be today."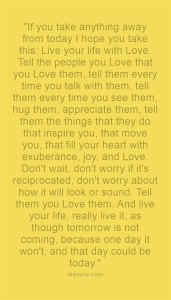 He likely used fewer words than that, but that is what I took away from his parting sentiment.
Last week I was looking for clarity. I found a new stream of it at the celebration of life of a man I didn't know very well.
Today I am feeling gratitude for the life he lived that brought all of those people together in one room so that those stories could be shared, and so we could hear that reminder to Love one another… now… this day.
I feel that I have a renewed yardstick of clarity with which to seek the answers I need… and that these are possibly the only questions I should be asking:
Does it feel good to me?
How does my heart feel when I imagine moving in that direction?
Is this choice filled with Love?
If I only had today would I choose this?
If I only had today…
It's so easy to be caught up in our daily grind of work, bills, chores, eating, working out, meetings, appointments, commitments, activities, decisions, etc… that we forget to really appreciate the life that we have to live, the life that we GET to live today.
Sometimes as a result of the daily grind we forget to really listen to those in our lives, to cherish the interactions we have with them, and to tell them that we love and appreciate them – as they are, in this day.
And sometimes we forget to listen to ourselves, to be present to the life that we get to live, to appreciate the body through which we get to experience our life, and to Love who we are in this day.
What if today was our last?
That question brings forward to me what is really important and what is "filler". Seeing this young man's family and beautiful wife grieving their loss and celebrating his life, reminded me to reconnect with what matters.
What I want to take away from this experience is that I only have today, and while I can plan for a future – an amazing future even – I can only LIVE in today. I choose to be present to it, to really feel my way into the most enjoyment I can reap, and the most Love I can sow.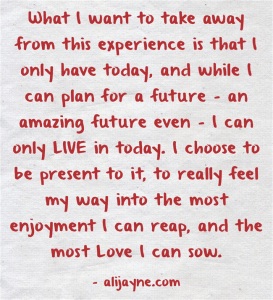 I choose to say "I Love you" freely when I feel it. I choose to practice gratitude for anyone that touches my life in any way because my time might be limited to this day. I choose to appreciate the life I get to live, even when I'm not yet experiencing the life I want to live. I choose to follow my heart and trust that in doing so the tomorrows will unfold in perfect harmony, and if no tomorrows unfold, then I will have embraced this day.
So…
Thank you to those of you who are reading, I appreciate that you are, and I Love you.
Thank you to the incredible people who are in my everyday life; I Love you.
Thank you to all of those people who have ever touched my life in any way at all, I am so grateful for you and I Love you.
And thank you to me for being open to learning from my environment, for being open to learning new ways to get the most out of life, for always seeking to understand myself a little more in every day and for seeking to understand the life around me, for being open to growth, and for always finding unicorns and rainbows even in the darkness… I Love you.
Warm smiles and Love,
Ali Jayne 🙂