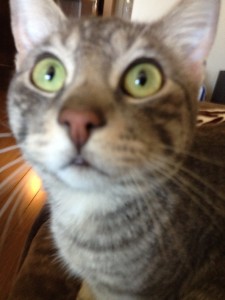 On Friday I brought home a furry four legged little man named Earl Grey, a.k.a. The Earl, a.k.a. Earl, a.k.a. Lord Grey, a.k.a. Buddy, a.k.a. Love Bug, a.k.a. You Are Such A Good Boy, a.k.a. Love-bug, a.k.a. My Little Snuggle-Buns.
Yep…He is pretty awesome!
Pretty AND Awesome…!…Look at those big green eyes!
He was named at the SPCA and while most people who I've talked with have immediately aligned the name Earl Grey with the tea of the same name, I can tell you now he is way too regal to be compared with a mere tea… he is definitely a Lord in stature and in nature!
I have not had a cat since 2001, when I left my dear sweet Oliver with my ex-husband. A part of me has been scared to commit to a kitty ever since, because it was heartbreaking leaving him behind, and also easier than I imagined to switch off that heartbreak. I was never certain which of those two things scared me most. Perhaps both equally.
In that time though I have travelled and was a bit of a nomad for a few years without a permanent place to call home. So while I've always gravitated to my friends cats whenever I got the opportunity to snuggle with a furry friend, I had not been in a position to commit to the stability I would need to give a cat, until I applied for adoption a few years ago.
During the home study process for adoption was asked "do you have pets?" my response was, "not right now, but I plan to get a cat when I adopt."
That was my plan.
But here we are two years since I first applied, and one year since I was approved, with no kids on the horizon – so, I decided, "Why wait?"!
I had been seriously considering getting a cat for about 2 months ever since I saw a kitty on the SPCA site that "spoke" to me. His name was Sterling, he was almost identical to my Oliver. His cute furry little face from his profile photos inspired me to contact my landlord and ask for approval.
My landlord, however, took nearly a month to get back to me with said approval, which only came about 3 weeks ago. In that time Sterling had found a home.
Each week I kept an eye on the listings and last weekend, Saturday 13 June, I saw my Earl Grey pop up on the site. I decided to go check him out the very next day during their business hours.
I spent nearly 2 hours until closing time cuddling with him that day and when he fell asleep on a ledge beside my chair with his head in my hands and his paws on my shoulder, I decided he was "the one".
His coat was not as shiny or smooth or silky as the other cats available, it was a bit rough and feral actually, and he was a bit scrawny…but he stole my heart with his loving nature, his bright green eyes, and cool coat patterns!
The SPCA was closed Monday & Tuesday so on Wednesday I told them I wanted to adopt him.
(Note: I realise some people take offence to the word adopt being used for animals or highways and the like, but it's the terminology the SPCA uses. And it's also a word that describes taking on a new name, or a new way of acting, or deciding to use a plan or idea, and to vote to accept something… so, to me it's just a word that can describe many things – including the beautiful act of bring parents and children together in family.)
Due to my schedule that week I was unable to pick him up until Friday, this past Friday, June 19.
In the two days between when I saw him and when I was able to contact the SPCA to say yes I want him, I started buying up some of the stuff I would need. In fact, on my way home from spending those few hours with him, I bought a cat feeding maze and some toys!
I also started "baby-proofing" my place.
Have you ever vacuumed under your bed? Gosh, I am ashamed to admit that I had not in the four years I've been at this place… ew. Dust! I will be doing this regularly from now on!
Baby-proofing was quite the trial…I have collected SO MUCH STUFF! It was an exhausting seemingly never-ending task that took up every single night after work for the entire week. Thursday night I worked past midnight to get the last of it done after discovering a hole on top of my kitchen cabinets that did not have an exit…one way in one way out…looked a lot like a kitty-cat trap to me. So duct tape and cardboard to the rescue.
I also made a duct tape and cardboard house for him…
He has been inside a few times, but this is one spoiled kitty and why use a cardboard house when you have the run of the couch?
So the house will be recycled at the end of the week and the blanket repositioned on the couch for Little Lord Grey.
It's interesting the things I felt would be a hazard and the things I worried about before he came to live with me that have turned out to be a non-event for him. Such as the plants around my living room, which I checked to be sure are not poisonous to cats. He hasn't been interested at all in them. The top of the bookshelf too, I packed away everything that was breakable and he has yet to venture up there.
The spot I picked out for the cat litter didn't go over well and I had to move it on the first night, the same with the position I'd picked for the food and water. These were small adjustments and no big deal. In fact, the first few hours were interesting to learn from him what it is he needs and make the adjustments as we went.
I'm sure that adoption of children will be similar in that sense. That period of adjustment where all the things I've "prepared" will be sifted through and some discarded as unnecessary, as well as the process of learning who they are, what their needs really are, and how to meet those needs.
The Earl is going to teach me, on a small scale, about being a momma.
Some of the things I bought have been completely unnecessary, like the suction cup window ledge that he's slept under, rubbed against, but is totally not interested in getting up on!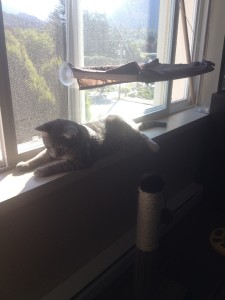 Speaking of windows, I was so worried about him opening the window too wide and climbing the flimsy screen and falling four stories to his death that I went to the hardware store to cut and purchase some wooden dowels to use as window stoppers.
$37.00 later (!!) I learned that wooden dowel is sold BY THE FOOT and not by the piece! So the two seven foot pieces that I cut into the sizes I needed, were not actually $2.48 each, they were $2.48 each foot + tax. Good to know! Unfortunate I didn't know before reaching the cash counter…but oh well! Live and learn.
Our first night together was really snuggly and hasn't stopped since that night. Earl is quite the snuggle-kitty. He follows me around and wherever I sit, he lays either beside me snuggled into my body, or on top of me snuggled into my body, or (it's been warm) beside me with one arm around a part of my body!
He is a super loving, snuggly cat.
He seems to love people, at least all of the people he's met so far. I believe he will be amazing with kids too!
He doesn't much like other cats, and that might be a good thing… if I never get to adopt children, if a match is never made, his aversion to other cats may save me from becoming the crazy old cat lady!
Thanks Buddy!
Because he is only 10 months old (10 months and one week on the day I brought him home they told me…which makes his birth-day 12 August 2014 🙂 )…he is still super playful and has made me howl with laughter at some of his antics with the toys I've provided.
His favourites being the cheaper $$ store articles, a cat tunnel with toys hanging at one end that he dives into and rolls around in it (totally entertaining) and the little cat tent that he also dives into and twists and turns and bends that thing around as though it's filled with invisible mice. Super funny!
He also loves the feathers at the end of the stick and the many balls with bells.
I discovered on the first night that I am quite allergic to the wood pellets I had bought for his kitty litter. That first night after I went to bed I woke about 30 minutes later coughing due to shortness of breath, with a throat that felt like I'd eaten sand, and a tingly tongue. I was really worried the next day when the symptoms persisted that I was allergic to him. I've never had an allergic reaction to anything in my life, nor have I had asthma, so it was a little unnerving.
However, I read up on the wood pellets and discovered that many people without allergies have had a reaction to the dust particles they produce. What a relief!
So, I disposed of the wood pellets and switched to a 99% dust free litter and have been breathing free and clear ever since…
Phew!
The new litter does track through the house more and I've become almost obsessed with sweeping up… this is an interesting thing for me to observe about me! I'd never thought of myself as a "clean freak"…though my place is not dirty by any stretch…but apparently there is a little tidy freak inside of me after all!
So far he has been everything I hoped for in a kitty. He doesn't talk through movies (!), loves to snuggle, seems to love me a lot and is always happy to see me or snuggle with me, is happy with the food I'm feeding him, amuses himself (and me), and has not gotten into too much mischief.
I had forgotten what it is like to try to eat my own dinner with a cat around… it's quite the exercise in gymnastics!
His coat has also become much silkier since the first time I met him, after a week of better food at the SPCA and a few days of even better food with me, he's shiny, silky, and not at all feral.
Here are a few more photos… he is so incredibly adorable, so pretty, and perhaps the most amazing and delightful cat in the entire world!
I could be biased though?! 😉
I'm completely in love.
Warm smiles and fur covered Love,
Ali Jayne 🙂