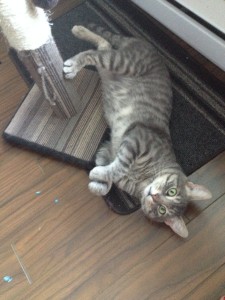 In my last post I was excited about the kitty that I just brought home, Earl Grey.
Earl Grey has now become "Greyson" because he didn't really answer to Earl, but seems to like and fit his new name Greyson pretty well. Perhaps he is the "son" of the Earl of Grey. 🙂
While we have now found our groove, I will admit that a little of the "shine" wore off a few days after I brought him home and I started to feel depressed, sometimes even weepy.
I have been on my own for a number of years now and had not fully appreciated how much my daily routines and the cleanliness of my living space, meant to me. That is, until I had a furry little friend in my space challenging my existence.
For the first five days or so, Greyson needed me every second of every moment that I was home. He was either under my feet as I walked, or in some way touching my person wherever I sat. And for those first five days I quite enjoyed his attention, lapped it up, and fell in love.
During that time I kept him out of the bedroom and bathroom as per the suggestions that I read online about bringing a new kitty home. Isolate them to one room at a time. This seemed to be working well, I still had two rooms that were all mine, and he seemed content to be in the main living area.
However, on the fifth night he darted into the bedroom and ran straight under the bed the millisecond I opened the door. It had been a long day for me and I was exhausted, so decided to just let him be… it was perhaps the worst sleep I've had in YEARS!
He was restless.
He squirmed, meowed, pounced on my feet, patted my face, sat on my neck, licked my hair, and sniffed the breath coming out of my nose each time I finally fell back to sleep! I was able to take little "cat naps" all night long (I now understand the term) for a maximum of 15 minutes at a time.
Why didn't I throw him out of the bedroom and sleep all night? It's a good question…I guess a part of me knew he was excited to be in the new room, and that I needed to let him "play it out" until he was comfortable there.
So while I was exhausted the next day (and the day after that when we had a repeat performance the following night)…I did my best to continue to stroke his fur and try to keep him calm for as long as he would relax. It was a long night… I got a minute taste of what a new mom feels with an unsettled baby.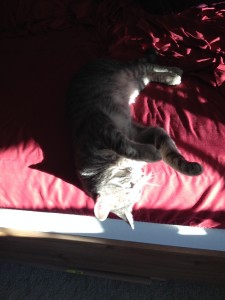 The following day, sleep deprived, and feeling on edge I started to wonder if I'd made the right choice in bringing him home, and if I was actually capable of sharing my space.
My already small one bedroom condo started to feel as though it was shrinking by the second, like that scene from the Star Wars Episode IV – A New Hope (1977) – in the garbage compactor, except C3PO and R2D2 were not going to save me!
I felt suffocated, cornered, and panicked.
And the hair! Oh my goodness. SO. MUCH. HAIR.
It's everywhere.
Since living on my own I have found that I like my space to be clean, not always tidy, but at least clean (with the exception of the dusting I mentioned last post – dusting is something I sometimes lag in doing, because I find it unbearably tedious!). But I Love to have clean sheets, blankets, clean floors, clean table, clean kitchen, etc… I enjoy clean.
Note: Whenever I say this now, I always think of my ex-husband who would likely laugh out loud at the suggestion of me cleaning. It's funny how other people's perceptions of you stay with you for so many years. He used to get so frustrated with me because he was a neat freak (maybe not a clean freak, but definitely a "neat" freak) and was constantly tidying. I remember him saying "it's so untidy" and me replying "we LIVE here for goodness sake…" For many years I thought of myself as a bit of a slob in comparison, but in reality I like things just as clean and tidy… however, I'm also not stupid (!) if someone else is going to do the cleaning, I'm sure as peaches going to let them!!!
But the hair, and the paw prints, and the kibble, and the litter that tracks throughout the living room… sigh.
I've found myself sweeping the floor 2-4 (or more) times a day. My favourite purchase has been a hand-vac… which made Greyson puff up like a ball with his hair completely on end and dance around the living room with his tail in an unusual "S" shape when I first used it! He still doesn't like it, but is getting used to it. I, on the other hand, LOVE it! Thank goodness for the hand-vac.
Day 6-10 with my new furry roommate were tough for me. I found myself feeling as though I didn't want to be around him at all, I didn't want to touch him (although I did keep letting him snuggle up to me and I did keep petting him), I definitely didn't want to love him – though I knew that was a losing battle, I already did love him, and I cried sometimes.
I wanted to run away and be alone again. Even wished he would contract an illness and die in a year or so rather than live a long life. Then I would hate myself for thinking such a horrible thought about a sweet an innocent kitty that my heart already loved, and I would cry some more.
I spent a lot of time wondering how I was ever going to be a mom to human children if I couldn't even stand being around the cutest, most loving cat in the world.
Each day I kept going through the motions, wake up, feed him, change his water, sweep the floor, vac the pile of assorted things, take a shower, go to work, come home, feed him, change his water, sweep the floor, vac the pile of assorted things, eat dinner, take a shower and cry a little (I didn't want to cry in front of him in case he knew it was about him), go to bed… I was a drone with a disconnected heart.
There were moments in those days where he was so sweet my heart melted and I felt such a rush of love for him. Those moments allowed the panic at being "responsible" and at being "hemmed in" to subside enough for me to relax and enjoy having him around, even if only for a short time.
After five nights of him having the run of the house (no more closed doors) we found our groove. He's no longer underfoot when I walk somewhere, nor does he need to be touching me wherever I am all of the time.
He has relaxed and I have relaxed.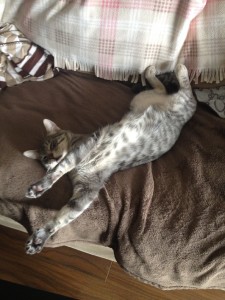 We've learned each other's personalities a little better:
I spend 10 minutes first thing in the morning giving him some love (a.k.a. neck, chin, and head scratches). I do this anytime I come home from outside of the house too.
He now understands that I don't want him to sit on my keyboard (or lap, or mouse, or in front of my monitor, or on my arms) when I'm writing.
I spend at least 30 minutes each night (sometimes many hours depending on my night!) giving him some love before I head to bed.
He no longer wakes me every 15 minutes during the night. In fact, he now sleeps most of the night on the bed, or does his own quiet thing until morning.
I use the broom to sweep up his endless supply of dropped hair, kibble, and litter.
He chases said broom, and rolls in the pile of hair, kibble, and litter (OK, so we still have some crinkles to iron out!)
At least he still retreats when the hand-vac goes into action.
We've found our balance and it didn't take too long.
This is something to remember.
I definitely felt panic during those five uncomfortable days where I wasn't sure I was equipped to share my space or be responsible for a living being who needed me so much to survive.
But I hung in there, I did what I needed to do, I cried when I felt overwhelmed, I wrote about it, I talked with friends (thank you!), I read a lot, I took long walks when the condo felt too small, I meditated… I did all of the things I knew to do to keep myself from true despair.
I told myself that it was OK to feel this way, and my friends reinforced this too, I told myself that if it really didn't work out there were options for such an amazing cat – but I knew I'd come through it.
And I did.
What I remembered is that if you just hold on for one more day, everything eventually turns around. At least it has in my life, always.
It's definitely hard in the thick of emotion to remember that the seemingly endless darkness within will turn back into light, but I have so many tools at my disposal, and so many wonderful friends who know, love, and understand me so well, that I can make it through just about anything.
I'm a champion at making it through. I'm also a champion at turning things around pretty quickly. I have great bounce-back-ability.
Greyson and I have been in the "groove" of our relationship for about 7 days now, with little tweaks here and there. There are moments where I want to snuggle with him and he's content to sit on the other side of the room in one of his many claimed "spots", and it makes me feel grateful that he has relaxed enough to choose whether he needs me or not. He's content, and I find myself relaxing into contentment too.
We also have a tonne of snuggle-time each day and we both seem to benefit from this time (I know I do, and his easy purr tells me he does too).
Being a "mom" to a kitty is vastly different to being a mom to a child, and the transition from "move in" to "groove" will take a whole lot longer than five days, but I'm really grateful to have had this mini-peek at what it feels like to open up my heart and home.
I feel grateful to have the experience of grieving the loss of my space, of my routine, of my alone-time. I feel grateful to have recognised the panic of a long-term commitment to a living soul who needs me every day. I feel grateful to remember that the discomfort and "loss" is only temporary, and that the rewards are numerous and ongoing.
Yes, I definitely feel that a larger living space would be welcomed and there may be opportunities unfolding soon in that area – but I was feeling that way before I had Greyson. And yes, the responsibility sometimes takes my breath away because he will live for 15-20 years and that's a really long time! In fact, it will be the longest "live-in" relationship of my life so far!
Until I have children of course, and even then – depending on their age when they join our family and what they choose to do after high school, he might still be the longest live-in relationship of my life so far! Unless my human soul-mate joins me soon. 🙂
Having a happy four legged fur-baby fall asleep on my chest while I'm watching a movie or reading a book, or hear his little mew of joy when I get home from outside of the house, is wonderful. The panic has subsided and I love the little guy to pieces.
He helped me show myself that I can be open, that I can adapt to new routines, and that I can always find my way back to love whenever fear creeps in.
Thank you Greyson. 🙂
Like a proud momma I show his photos to everyone, everywhere (even to poor defenseless store clerks!)… so here are a few more for your enjoyment: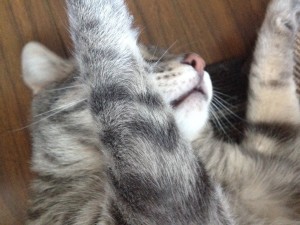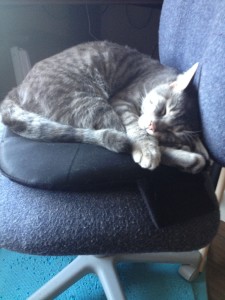 Warm furry smiles and Love,
Ali Jayne 🙂