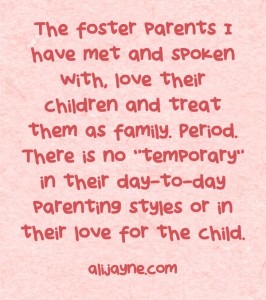 This is a question I have asked myself since the very first conversation I had about adoption nearly 3 years ago. The person I was talking with was a foster care social worker and encouraged me to consider foster care as well as adoption.
She told me about the large need for foster homes in my community, which I have to admit, surprised me. I live in a relatively small town, with a relatively 'small-town' mentality (everyone knows someone who knows everyone), and it had never occurred to me that there would be a need for foster parents so much as to be a lack of them.
At that time becoming a foster parent didn't appeal to me except as a possibility for the distant future, though I will admit, I didn't know much about foster parenting, nor had I met a foster parent (at least not knowingly).
Since then,I've completed many adoption courses – including the required Adoption Education Program (AEP) – and all of them talked about the foster care role in adoption. I've learned more about the kids waiting for adoption who have come from foster homes. I've met foster parents in person, online, and through course work, and had the opportunity to ask them about foster care.
From what I can tell, the essence of foster parenting is simply parenting with an unknown end date. The foster parents I have met and spoken with, love their children and treat them as family. Period. There is no "temporary" in their day-to-day parenting styles or in their love for the child. Of course, there is much more to it and the foster parents I have had the privilege of talking with have been extremely knowledgeable – they are: counsellors, therapists, teachers, friends, and caregivers all rolled into one… and the crux of their role is parenting with Love.
There are several reasons that foster care has been suggested to me, but the three strongest reasons are:
I am a single parent, and as mentioned in a previous post there is a bit of a stigma about placing children with single parents.
This stigma is not so prevalent in foster situations.
Gaining valuable experience and 'exposure' to kids in care by providing foster care – or even respite for adoptive parents – can make my profile more appealing as an adoptive parent.
It may open the door to a foster-to-adopt placement. And from the information I've garnered so far, this may be my best option to adopting within my age parameters of choice.
These are good points, and each time they are raised I feel that providing short-term foster care may indeed help me raise my "caste" within the adoption world.
There have been several things holding me back though, and the main reasons are:
Letting Go…
The fear of getting to know a child over a short or longer term, falling in love with that child, and having to let the child go – either back to a situation that may or may not remain stable, or into another family's permanent home.
Would my heart cope with this? I do not know. I feel it is the most important question for me to answer before stepping onto this path.
Accommodations…
I currently live in a one-bedroom apartment. I will need to move before an adoption placement is made and I'm aware of this, but at the moment I'm able to save money to support us during future parental leave and as a deposit for a place to own rather than rent.
If I move prematurely, I may not receive a foster placement or an adoptive placement for years – and would then be paying my "savings" into someone else's mortgage instead of my adoption fund.
This is a big deal to me because I want to be able to provide (and provide well) for my future family. I also want to take the full parental leave, and there is no way I would be able to support myself or my family on Employment Insurance alone (no top-up from my employer).
Still, my lack of living space is something that will need to change before any child is placed with me, in whatever capacity (foster/adoption).
"Trapped"…
Many of the single people, especially, but also two-parent families that I talked to on the adoption forums told me that once you start fostering it's often very hard to stop fostering and be considered for adoption. Because there is such a need for good foster families, sometimes a foster family will be overlooked for a perfect adoption match because there is nowhere else for the foster children currently in their care to go.
The families talked of it being a "trap" unless you are interested in becoming a lifetime foster parent and never adopt. I might not have heeded this concern, except that it was a recurring theme amongst those who are in it, and many people have warned me to tread with caution if becoming a lifetime foster parent is not my desire.
Lately though, I have been thinking more and more about opening myself up to foster care, especially since meeting my friend's new baby a few weeks ago and feeling that desire to have a baby of my own.
Recently, a family in my town was matched with a little girl who is 15 months of age and is a foster-to-adopt placement. Hearing of this has definitely opened my mind once again to the possibility.
Foster placements – including potential foster-to-adopt placements – could potentially be the younger child/ren with whom I am hoping to be matched as an adoption.
There are two options in BC through the Ministry according to the AFABC website when talking about adopting your foster child and they are:
This one to me seems more "safe" in that the idea is that the child is placed with the foster family with the goal of that foster family adopting the child as soon as adoption is approved for that child.
The website explains this option as follows: Concurrent planning describes the process of working towards reunification of a child with their biological family, while at the same time (concurrently), creating a back-up plan of adoption. A specific foster family is chosen who is willing to provide temporary care and willing to adopt if reunification is not successful. Foster parents and prospective adoptive parents interested in concurrent planning must understand the high-risk nature of such a placement. Caregivers must be comfortable committing to care for a child whose permanency plan is not yet determined.
There are no guarantees with either option.
So as long as I was matched only with a child who was "for sure" in a foster-to-adopt situation, I would consider it.
The "no guarantees" is uncomfortable for me though.
The foster parents I have met have had so much love for all people (not just the children in their family), a wealth of knowledge and understanding, along with a healthy sense of humour. I am not certain if I am ready to stand as one of them. They are some big, big, big shoes to fill!
It's a lot to consider and will likely become a subject I talk about again (and maybe again and again!), while feel out what is right for me. My position on the subject may even change several (hundred) times!
Because of this I would welcome your thoughts, feelings, suggestions, positive stories, etc… on this subject!
Are you a full-time foster parent? Or have you successfully fostered to adopt, or had a concurrent adoption placement?
I'd love to hear from you!
Warm smiles and Love,
Ali Jayne 🙂