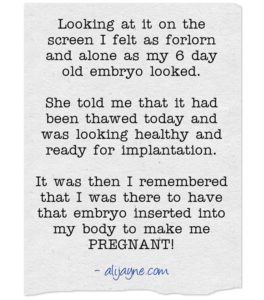 March 30, 2017, continued…
Having communicated with my future little one in my journal, I was feeling calmer and ready for what was to come next… though still a bit disconnected.
Acupuncture:
L the acupuncturist arrived on time at 9am.
For some reason I stalled a bit getting to her. I guess things were starting to get real.
The hotel helped me stall, by making the elevator take forever. I was on the 7th floor, the top floor, and sometimes the elevator actually took 10 minutes to arrive. This was one of those times. I was grateful for the breather.
L was lovely, she took the time to explain things on the way up in the elevator and set my mind at ease when we got to the room, explaining again what to do. Take of your leggings (I was wearing a dress with leggings) lay on the bed, head at the foot. And she went to wash her hands.
That was a good sign, Continue reading Transfer Day – Part 2→