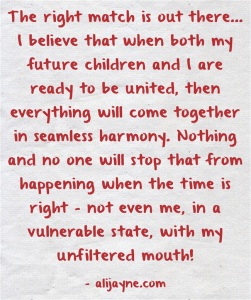 As mentioned on Monday in the post Adoption: Matching Event, where I outlined what an event is about and how it works, I am now posting my own personal feelings/experiences about the event last week.
Firstly I want to say thank you to the event organisers, facilitators, presenters, fellow families, and to my social worker for recommending that I attend. I am grateful.
I got to meet some remarkable people. The fellow expectant and hopeful parents, all of whom had interesting stories, including a single mom who I had met and conversed with online prior to the event and was fortunate to meet her in person at the event. Along with the many social workers who were profiling children in their care. It was great to meet them all and get a feel for their take on the process and adoption in general. It was also nice to freely talk about adoption with other like-minded people.
On a personal note, I drove onto the ferry for the first time by myself – which gave me a bit of a thrill that always comes with a "first" experience. Plus the whole journey was a wonderful getaway – driving from Nanaimo to Victoria through towns I'd only ever heard of and never seen with my own eyes, staying in a lovely hotel for the night and reading half of a new novel (always a great feeling!), attending the event and experiencing growth and new understanding while meeting some awesome folks who share the same desire to grow their family through adoption.
I was also fortunate enough to top the getaway off by spending the night with another friend (also a fellow single mom) and her family. Reinforcing an already solid friendship and expanding it into one that I hope will remain strong for many years to come. (Thank you L (and M)!  A wonderful night of talking, laughter, and friendship… your hospitality, thoughtfulness, and openness was so greatly appreciated.)
My Personal Experience at the Event:
As mentioned in the post on Monday, there was only one child profiled during the day that stood out to me, and she was definitely out of the parameters I had set up as my "ideal" family situation. Continue reading →