My kitty cat, Greyson, is teaching me what I will be like as a mom.
Or at least what I might be like – because a mostly self-sufficient, independent cat is a totally different experience to a child, I do understand this.
This past weekend he got sick, and I cried.
On Saturday evening I was resting on the couch while watching a movie, (Blended, with Drew Barrymore and Adam Sandler, a cute movie), and Greyson came and snuggled into one of my feet. His arm and paw around my foot like so: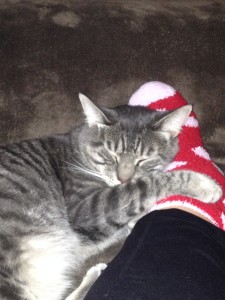 My heart expanded with happy feelings of love for him.
About 30 minutes later, Continue reading Sick Kitty = Weepy Mom→