Adoption Online (AOL) Training Course: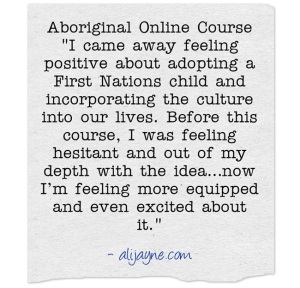 This course run by the Indigenous Perspectives Society is one I have recommended again and again to families who are either thinking about adoption or have adopted. And yet, I realised I have never posted a review about it.
This is what it says on the website about the course:
Welcome to the Aboriginal Pre-Adoption online training course (AOL). This course is delivered over an 8-week period, accessible 24 hours a day, requiring approximately 3-5 hours a week participant time commitment. AOL is a flexible self-paced and asynchronous engaging course delivered via IPS's Moodle learning management system. The training is applicable for caregivers (pre/post adoptive parents, foster parents) social workers, interdisciplinary professionals and to anyone working in the field of Aboriginal/Indigenous child and family service delivery. We can easily modify AOL to suite your specific needs.
The AOL course identifies historical and contemporary impacts of colonization and the regeneration of positive culture identity development. The learning from the activities will support a commitment to creating and maintaining connections through promoting holistic well-being of Indigenous children.
This course for pre-(or post, I believe)-adoptive parents is funded by the MCFD (i.e. free to you) so contact your social worker and ask to be included in the next round.
Prior to this course I didn't really know much at all about Aboriginal history in Canada (or anywhere else for that matter) and I was not feeling certain how comfortable I would be adopting a First Nations child – purely because I didn't know much about the culture or the issues the children might face.
I came away with new insight into what was experienced by Aboriginal people and the history of the children I will likely parent.
Some of the course was intense and heartbreaking. The section about colonization and the residential schools, which continued until 1999 (!!), and the aftershock of those tragedies – tough subject matter.
A bulk of the course was emotionally powerful – especially for me who is a bit of a delicate flower in that respect and chooses not to watch/learn/read hurtful, painful, emotional things. There were definitely "heavy" topics discussed in that sense, including viewing video footage of stories of abuse and terror inflicted on children. Hearing about children being taken by force at 5 years of age to an ISLAND and terrorised, shamed, and abused until they were 18, was extremely hard to swallow and invoked strong emotions in all course participants.
However, the second half of the course was extremely positive with a "from this foundation we build, grow, and move forward" type of attitude.
In my final assignment I was asked to refer to my favourite parts of the course, and definitely The Circle of Courage Philosophy was my favourite of all topics covered. These are the core values in Aboriginal culture and the principals used in the teaching of their children.
This part of the course resonated with me deeply:
The Circle of Courage Philosophy
Belonging
In Native American and First Nations cultures, a person's significance was nurtured in communities of belonging. Lakota anthropologist Ella Deloria described the core value of belonging in these simple words:
"Be related, somehow, to everyone you know."
Treating others as kin forges powerful social bonds that draw all into relationships of respect. …throughout history the tribe, not the nuclear family, always ensured the survival of the culture. For children, belonging means becoming an accepted and contributing member of a group or community and being able to build meaningful relationships with others. A sense of belonging is essential for all people and for Aboriginal children; their sense of identity extends beyond their adoptive family to include their biological family, extended family, community, and cultures.
Mastery
Competence in traditional cultures is ensured by guaranteed opportunity for mastery. Children were taught to carefully observe and listen to those with more experience.
A person with greater ability was seen as a model for learning,
not as a rival.
Each person strives for mastery for personal growth, but not to be superior to someone else. Humans have an innate drive to become competent and solve problems. With success in surmounting challenges, the desire to achieve is strengthened.
Independence
Power in Western culture was based on dominance, but in tribal traditions it meant respecting the right for independence. In contrast to obedience models of discipline, Native teaching was designed to build respect and teach inner discipline. From earliest childhood, children were encouraged to make decisions, solve problems, and show personal responsibility. Adults modeled, nurtured, taught values and gave feedback, but children were given abundant opportunities to make choices without coercion.
Generosity
Finally, virtue was reflected in the pre-eminent value of generosity. The central goal in Native American child-rearing is to teach the importance of being generous and unselfish. In the words of a Lakota Elder,
"You should be able to give away your most cherished possession without your heart beating faster."
In helping others, youth create their own proof of worthiness: they make a positive contribution to another human life. (The Reclaiming Youth Network, p. 1-2)
The two that resonate with me the most are Mastery and Independence. These concepts are definitely a part of my own "core values" for life already and how I want to raise my children.
Belonging is something I deeply wished for in my own life growing up and is very important to me as an adult with the network of family I have built out of the amazing friends in my life. It is something I look forward to creating for my children, both within my family, and within their extended family.
And Generosity…well, it's unlikely I'll be giving away my most cherished possession anytime soon, but I do appreciate (and understand) the concept! The importance of generosity is not lost on me, and I love the teachings of making a positive contribution to another human life.
The course went on to show how these four core values could be taught to children of all age groups, with age-appropriate suggestions. Very valuable information and I will refer to this often as I become a mom, no matter my children's cultural heritage – these are good values to instill.
Now that I have been shown the core values, and understand a little of the history, I can imagine embracing the culture into our daily lives, and ensuring that my children get to participate in cultural events, and actively maintain a connection to their history, culture, Native band, and extended family.
As for the course structure itself, I loved the self-paced mode of learning, all of the different activities, the forum requirements, and the Journal entries! As you know, I love to communicate in writing and this course was all about that! 🙂
In comparison, I found this course much more robust and valuable than others I've completed on the adoption journey so far.
The AEP (Adoption Education Program) which was run in a similar manner was a close second for me, because it too was filled to the brim with information that was extremely valuable and essential for adoptive parents – but, in comparison, offered little hope on many subjects.
I appreciated that the Aboriginal Adoption Online course was informative, dealt with the hard topics, and then counter-balanced that with suggestions on how to move forward positively and healthily.
A great resource to put in the tool-box for all prospective adoptive parents and to anyone who has adopted Aboriginal children.
One mom in our course had a 17 year old Aboriginal child that she adopted 10 years earlier and it STILL helped her talk with him about things that she hadn't known how to talk about before. She said, "this course opened up new communication channels for us as a family," and she reported that her son appreciated her understanding and the open dialogue so much, that their bond became even stronger.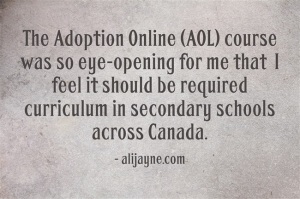 This course was so eye-opening for me that I commented in the course forum that I felt it should be required curriculum in secondary schools across Canada. Many of the people in my course who were born and raised in Canada agreed with this idea, as so many of them did not know very much at all about Aboriginal history or culture and some were angry that they were never taught.
As a pre-adoptive parent, I also learned that there are requirements when adopting Aboriginal children, like making a cultural plan for the child and being involved in local First Nations events, ensuring that their schooling includes culturally relevant information, learning their language and about traditional foods, etc.  As well as to make a commitment to a connection with my children's own First Nations band and attending their cultural events – like a Pow Wow, or a Naming Ceremony – and to connect with a part of their extended family. A requirement of the course was to seek information about the local First Nations band in my town and who I would contact to connect with them.
All in all – I adored this course, and I'm so thankful that I got to participate and complete it.
Some of it was emotionally tough but I came away feeling positive about adopting a First Nations child and incorporating the culture into our lives. Before this course, I was feeling hesitant and out of my depth with the idea…now I'm feeling more equipped and even excited about it.
Let me know if you have attended this course, or one like it, and what you most enjoyed/loved/resonated with about the course or the culture. I'd love to hear your thoughts.
Warm smiles and Love,
Ali Jayne 🙂