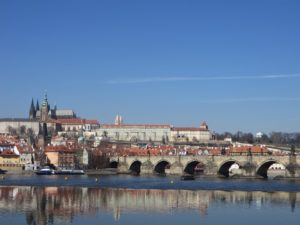 After missing my connection in Paris, I finally arrived in Prague at around 8pm at night….unfortunately, my luggage did not accompany me and I was told by the luggage counter that it should make its way to Prague by lunchtime the following day!
Still in good spirits though – even with 24 hours of sleep deprivation and travel, missed connecting flights, bleeding scares, and missing luggage!
I owe a good portion of my spirits to S, the beautiful soul originally from Prague who lives in my condo building, and who happened to be visiting her mom in Prague at the same time as me!  Amazing right?
She met me at the airport and waited nearly an hour for me to get through the whole missing luggage debacle! It was almost 9pm when I finally emerged and there she was, beautiful, shining like an angel of light. After the day I'd had, having a friendly face waiting was an enormous gift.
Unfortunately, the last Airport Express bus was at 9pm, so we had to make our way to the ticket booth and then run for the bus! We made it…phew!
As the bus made its way through the outskirts of Prague, she pointed out things of significance to her, like her university, the first place she lived, and the location near where she was born… most of them were a bit of a darkened blur for me because of the time of night, but her running commentary was a soothing elixir for me and I was grateful to hear her stories.
When we were about 10 minutes from our final destination, she touched my arm and told me to crook my head around to look out the window and slight behind us… there in the distance across the river was Prague Castle all lit up and sparkly.
It was a magical moment, and the first time I really thought to myself "I'm in Prague!" tears welled in my eyes as love swelled in my heart.
I kept my eye on that view as it appeared and disappeared behind the buildings on the rest of our journey. It really was pretty and I wished I'd thought to take a photo even from the moving bus window. The scene will live in my heart and mind forever. (photo below courtesy of worldfortravel.com)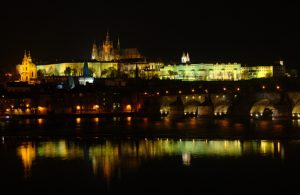 We arrived at the Main Train Station in Prague at around 9:30pm and this was not our destination. We still had to ride the metro one stop to the closest point near the hotel.
To do this we rode down in a Metro elevator that was just outside the bus doors. It was literally just an elevator in the middle of nowhere, with no other buildings around going to the underground station and connecting to the main train station across the road.
We rode down and it was the first whiff of cigarette smoke – something that became a common scent during my next week. The non-smoking movement has not quite caught on in Europe!
S showed walked me around the main train station and showed me where I would go when I was to return in a few days to catch the train to Olomouc.
Then she showed me how the metro works and which direction is the right one. We used the metro tickets I had purchased at the airport and hopped on the one toward my hotel.
Again I marvelled at how lucky I was to have her there with me guiding me, supporting me, showing me the ropes. It wasn't complex and I would have worked it out, but adding my level of exhaustion to the mix I would have been completely overwhelmed and likely scared at taking the subway alone at night.
The hotel was a literal 5-minute walk from the metro stop and when we walked inside I was overjoyed that it was as it appeared in the photos!
S waited while I checked in and then came with me to the room to check it out. Then I walked her back to the subway station so she could make her way home, and I stopped at McDonald's for my first meal in the CR! I was starving and though it was nearly 10pm by the time I got a meal the food never tasted so good. (Actually, they use a weird mustard sauce here but after I scraped that off it was the best burger I'd ever eaten!!! haha).
After filling my belly, I took a shower…I felt so stinky and sticky and awful, but the water pressure and the water and the soaps in the hotel….soooooo good! 🙂
Thankfully, I had packed a spare set of clothes and my sleepwear in my carry on. I didn't have my own soaps and shampoos, but used the hotel ones and was just happy to be clean and in fresh clothes.
I have no doubt though that if I'd arrived without a friendly face waiting I would have likely had a different experience and could possibly have been feeling sad/angry/scared. So, so, so grateful to S, and so, so grateful to my next-door neighbour for introducing us. Amazing timing. Divine timing even.
I was pretty angry with myself yesterday for missing the plane. I was sitting RIGHT THERE! But if I'm honest with myself, this worked out better… I might not have actually known where I was going without S, and my first impressions of Prague (with missing luggage etc.) might have been wholly negative, so that was a huge gift.
Overwhelmed with gratitude I sent her a quick email asking her to let me know she got home safely, and expressing the following:
"Thank you so much for meeting me at the airport last night….That was such a huge blessing for me and a gift beyond words!

I have no doubt that my first impressions of Prague and my experience from that point forward would not have been so positive without you there with support and friendship. After my travels yesterday I needed that more than I realised."
A great night's sleep, in the MOST comfortable bed I've ever slept in and I felt amazing the next morning. Note: it was truly more comfortable than my bed at home, I wish I'd looked at the mattress tags to work out what brand it was!
The breakfast was unbelievably good and was served in a huge dining room with a smorgasbord of breakfast foods and cold cuts/cheeses, along with a dedicated omelet bar. Plus, there was a piano player serenading the diners. All included in the price of my hotel room. I loved this hotel!
I would highly recommend the Grandior Hotel in Prague, which I booked as a great deal through booking.com.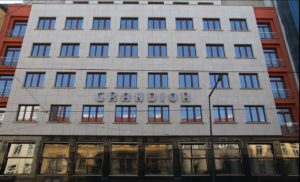 After a delicious wake up meal, I headed out into Prague to see the sights!
Stay tuned for my first day in Prague, with photos…
Warm smiles and Love,